S. Hansen
"A sincere thank you for the wonderful job you did on my teeth. I appreciate the fact that you saw me immediately and my services were so professionally done and reasonable. I'm relieved that I was lucky enough to find you as a dentist. [And] I love the new additions...in your office. You always hire the most wonderful people."
M. Ritter
"Thank you for the outstanding service that I received from you and your staff. I have been to several dental offices over the years and have never had the treatment that I received from your office. I felt that each person really cared about how I felt about my teeth and that they would not settle for anything but the perfect look for me."
"After my first visit, I was certain that you would do a sensational job. You are very experienced, enthusiastic and passionate about your profession. I have always been self-conscious about my smile and never dreamed I could change my look without getting braces. You took the extra time to show me that I could."
"You were sincere...and went above what any other dentist would do. You spent many hours working on my teeth - without even [taking] a break. [And] you took time...after...to call and make sure that I was doing okay. We need more caring professional people like you and your staff."
"You have changed my self-esteem and I will never smile with my mouth closed again!... Thank you for changing my outlook on myself. I was very fortunate to have had... your professional care."
D.J.
"My teeth are beautiful. Thank you so much for all of your hard work! I can smile with confidence now and I love it! Thank you."
Our practice accepts insurance from the following companies.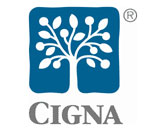 CIGNA
CIGNA offers a variety of dental plans and dental insurance to our Apple Valley area patients, including CIGNA Dental Care (DHMO), CIGNA Dental PPO or CIGNA Traditional.

Delta Dental
Delta Dental Plans Association is a not-for-profit organization with some for-profit affiliates as member companies. Through its 39 independent member companies, it offers national dental coverage to our Apple Valley dental patients - administering programs and reporting systems that provide employees and individuals with quality, cost-effective dental benefits and superior customer service.

Aetna
Aetna is a national leader of health and related benefits offering dental insurance to our Apple Valley patients, as well as health insurance, pharmacy, and life insurance products for individuals, medicare insurance and disability.
Dental veneers for a gorgeous smile
Dr. Fred Hermanson is a trusted Apple Valley area veneers dentist. Our professional team is dedicated to providing you with quality results in a comfortable and pleasant atmosphere.
You won't have to feel embarrassed any longer by crooked, chipped or discolored teeth. With your new dental veneers, you'll be thrilled to show off your healthy teeth and beautiful smile.
Implants - the alternative to dentures
If you are missing one or more teeth, you'll want to talk with Apple Valley area dental implant dentist Dr. Fred Hermanson about replacements that look and feel as natural as your own teeth. If dentures are causing you problems, you may consider dental implants. Unlike dentures, which can be removed, Dr. Hermanson offers dental implants that are permanently anchored into the jaw itself.
Dentures that look great and last
If you're looking for dentures that look great and last, look no further than Smiles by Design Dental Care located in the Apple Valley, MN area. Fred Hermanson, D.D.S. will assess your needs and fit you with durable, comfortable, natural-looking dentures - at a price you can afford.
Natural-looking dental crowns
Dr. Fred Hermanson, practicing in the Apple Valley, MN area, can provide you with the highest quality dental crowns available, and restore your smile. Using state-of-the-art materials and cutting-edge techniques, Dr. Hermanson can make your smile look healthy and natural again.
Sleep dentistry for stress-free care
Sleep dentistry offers a relaxing and virtually pain-free dental experience. You'll have little or no memory of the entire visit. If you would you like to experience quality dental care without feeling nervous or uncomfortable, sleep dentistry may be right for you.