Family Dentistry: Find a Dentist Who Offers General Dental Care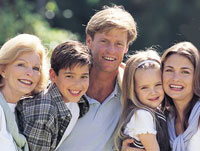 A family dentist is a general dentist who can meet the dental care needs of patients of all ages. Family dentistry encompasses a lot, including pediatric dentistry, dental hygiene, and dental work like fillings, crowns and bridges.
Family dentists fill different roles for different family members: a children's dentist for the little ones, a braces dentist for teens, a restorative dentist for adults, a denture dentist for older people, even working as a wisdom teeth dentist or root canal dentist if the situation requires.
Dental hygiene and tooth cleaning are also an important part of any family dental practice. The dental hygienist will give your mouth a thorough cleaning twice a year, and then the dentist will perform an oral exam to look for any dental health problems, dental work that needs to be repaired, etc.
Finding a family dentist with whom everyone in the family is comfortable is one of the best things you can do for the oral health - and overall health! - of your entire family.