S. Hansen
"A sincere thank you for the wonderful job you did on my teeth. I appreciate the fact that you saw me immediately and my services were so professionally done and reasonable. I'm relieved that I was lucky enough to find you as a dentist. [And] I love the new additions...in your office. You always hire the most wonderful people."
M. Ritter
"Thank you for the outstanding service that I received from you and your staff. I have been to several dental offices over the years and have never had the treatment that I received from your office. I felt that each person really cared about how I felt about my teeth and that they would not settle for anything but the perfect look for me."
"After my first visit, I was certain that you would do a sensational job. You are very experienced, enthusiastic and passionate about your profession. I have always been self-conscious about my smile and never dreamed I could change my look without getting braces. You took the extra time to show me that I could."
"You were sincere...and went above what any other dentist would do. You spent many hours working on my teeth - without even [taking] a break. [And] you took time...after...to call and make sure that I was doing okay. We need more caring professional people like you and your staff."
"You have changed my self-esteem and I will never smile with my mouth closed again!... Thank you for changing my outlook on myself. I was very fortunate to have had... your professional care."
D.J.
"My teeth are beautiful. Thank you so much for all of your hard work! I can smile with confidence now and I love it! Thank you."
Our practice accepts insurance from the following companies.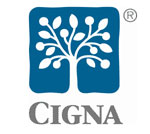 CIGNA
CIGNA offers a variety of dental plans and dental insurance to our Apple Valley area patients, including CIGNA Dental Care (DHMO), CIGNA Dental PPO or CIGNA Traditional.

Delta Dental
Delta Dental Plans Association is a not-for-profit organization with some for-profit affiliates as member companies. Through its 39 independent member companies, it offers national dental coverage to our Apple Valley dental patients - administering programs and reporting systems that provide employees and individuals with quality, cost-effective dental benefits and superior customer service.

Aetna
Aetna is a national leader of health and related benefits offering dental insurance to our Apple Valley patients, as well as health insurance, pharmacy, and life insurance products for individuals, medicare insurance and disability.
Soothing nitrous oxide (laughing gas)
If you're concerned about dental treatments, soothing nitrous oxide (laughing gas) is one of a number of options available at Smiles by Design Dental Care to help reduce your dental anxiety. Apple Valley, Minnesota, area dentist, Dr. Hermanson, wants your dental visit to be as comfortable as possible.
Comfortable, clear Invisalign® braces
Apple Valley area Invisalign® dentist Fred Hermanson, D.D.S. is happy to provide your new clear braces. At Smiles by Design Dental Care, we want you to have the straight teeth and beautiful smile you desire.
We're happy to assess your needs create your individual treatment plan for braces. You may be able to have your new Invisalign® aligners sooner than you think!
Permanent dental implant crowns
Dr. Fred Hermanson at his Apple Valley area cosmetic dentistry practice offers extensive experience restoring your dental implant crown.
Our dedicated team uses state-of-the-art materials and techniques for stability and longevity. You'll enjoy the comfort and confidence of natural-looking teeth.
Restorative dentistry to reclaim your natural smile
Apple Valley area restorative dentistry at Smiles by Design Dental Care can produce natural-looking results. If you have a damaged or missing tooth, we can help.
Our highly skilled team will assess your need for a crown, bridge, implant or other procedure to restore or improve your smile. Our goal is to provide quality dental care for your life-long oral health.
Home whitening for convenience
If you prefer home teeth whitening for convenience, set up an appointment with Fred Hermanson, D.D.S. at his practice in the Apple Valley, MN area. You'll be able to whiten your teeth in the privacy of your home, and on your own schedule, even while you watch television or read a book. You'll be very pleased with the results of Dr. Hermanson's natural home tooth whitening process.